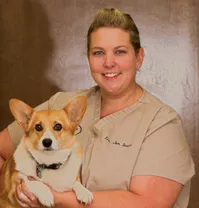 We are pleased to announce that Dr. Jennifer Imus has purchased the Fall River Veterinary Hospital as of August 2016.
Dr. Jen Imus was raised in Grass Valley, CA where she was an active member of 4H and FFA and truly developed her leadership skills and passion for the agriculture industry. While completing her Bachelor of Science Degree at the University of California Davis, Dr. Jen was a student herdsman for both the sheep and swine facilities and competed on the 2004 Cal Aggie Livestock Judging Team. Dr. Jen completed her Master of Science in Animal and Veterinary Science at the University of Wyoming in December of 2007.
Dr. Jen once again returned to her alma mater, UC Davis, and completed her Doctor of Veterinary Medicine in June of 2012. During veterinary school, Dr. Jen worked as a surgery technician in the food animal medicine barn, served as president of the FARM Club and Veterinary Emergency Response Team. She worked in the greater Redding area during her first year of practice and moved to Alturas in July of 2013. As an associate veterinarian at Modoc Veterinary Center Dr. Imus refined her skills in small animal medicine and developed relationships with her large animal clientele.
Dr. Jen and her husband Dan are both excited to be settling in the Fall River Valley. Dan is returning to the place he was raised and Dr. Jen looks forward to raising a family in this enriched environment. Dr. Imus has had a lifelong goal of becoming a practice owner and she is dedicated to serving the great people of the Intermountain area.
The Imus family includes 3 dogs: Tuff (Border Collie/McNab), Banner (Boxer mix), and Lou (Corgi).